BATH TIME - yonkoma #46
Published by Kyuken on December, 10th, 2020.

After an intense day of work, it's so good to relax and share a good time in a big hot bath in the company of my Goddess/Mistress Helfreija and Layla, the cute Succubus.
Hi little Devils,
With this yonkoma, this is the first time, Helfreija, Layla and I have been together at the same time and place. It's a real pleasure for my little feline eyes to see them all naked and I guess it's the best thing for creating an agreement between these two ladies.
Yeah ! I love taking my time in a bath for relaxing and cleaning my mind. But I know it's not really ecological or economical while I hold back on many things. I must therefore know how to find a balance so as not to find myself dissatisfied.

The first information I want to give you as gift two downloadable wallpapers in the wallpapers section of my website by hovering the mouse over the gallery drop-down menu.

You can also find these illustrations as posters on different materials on my RedBubble store.
The next information relates to an announcement made in the yonkoma #45 comment post.
I told you I am a member of the Dessin & Art association (translation : Drawing & Art), also called Lemonart (like the magazine, because it's easier to pronounce). I announce you the opening of the crowdfunding campaign for the second magazine has started on the Ulule website.
Lemonart is a French-language magazine whose theme changes with each publication published by the Dessin & Art Association.
The association decided to highlight the theme of Science-Fiction for this second magazine. It took a year of work and called on the talent of 50 amateur and professional creators to proclaim our passion for Sci-Fi.
Inside the magazine, you can discover many articles, interviews, comics, illustrations ; but also mini-games, and even a board game.
In exchange for your support, you will receive rewards for your financial participation : portraits for social network, wallpapers and more for the first most valiant contributors.
If you want to contribute to the realization of this project and beyond, you just have to click on the following link : https://fr.ulule.com/magazine-lemonart-2/ or click on the picture just below.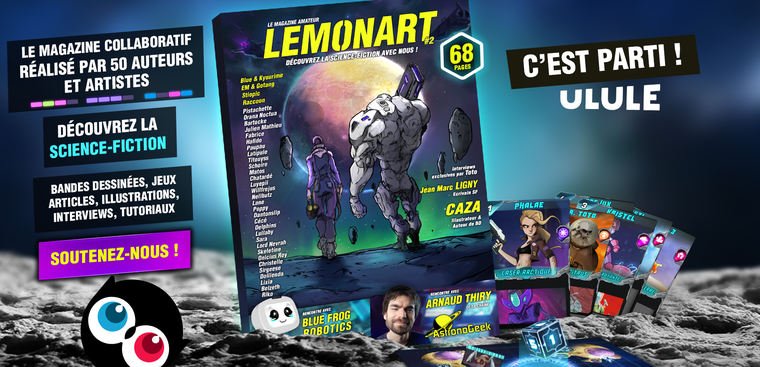 What about me in this story ? What is my place and my interest in this project ? Although I am not present in the magazine, my contribution was made on the rewards, which are :
Endoskeleton a portrait for social networks,
Citrus Space Ranger ~ Major Shikwasa ~, a printable coloring illustration,
Flight of the Moonbird, a wallpaper in 1920x1080px format for your computer.

And finally, I want to promote the members and participants within the association with whom I chat and don't hesitate to ask for criticisms / advices on my own work. Each name is a link to their social network or their website (if there as). In alphabetical order, these creators are :

Bartocke, Blaa BD, Belzeth, Blue, Cécé, Chatardé, Christelle Ponche, Damsha, Dantonslip, Darkin Kimiro, Delphins, Dollienda, EM, Espérance Simon, Fabrice, Gotang, Hafido Dido, Inkâéo, Jsmart, Kyun Sky, Kyuurime, Latipule, Lixia, LKJ, Lord Nevrah, Lullaby, Luyepii, Matos, Nekonilink, Nelibutz, Neoxm, Onicius Roy, Onix, Orana Noctua, Paupau, Phalae, Pistachette, Poppy, Raccoon, Reluna, Riko, Sara, Schoire, Sirgeese, Skeletine, Stiopic,Titouyss, Totow the Robot, Willfrejus, Xor, Y'lqar.
Phew ! Integrating the Urls was a bit long, especially since I had to type them one by one. After the update, it's time to bath. XD
Feel free to support me, or follow me on Twitter, Instagram, Subscribe Star and RedBubble.
See You Next Little Devils ! (^_^)